---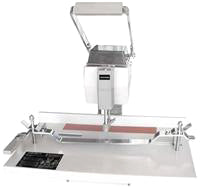 UCHIDA VS25 PAPER DRILL
---
RRP $

3,495.00

$

2,995.00

*

+gst
---
Details
All Uchida paper drills are designed for simplicity and ease of use. The drilling position is automatically determined with a slide table. Specially designed and programmed pitch bar allows easy selection of desired hole pitch. They are highly accurate and safe.
Easy to use electric punches with 6 different preset spacing options. 50mm Drilling Capacity. 6-35mm adjustable margin. Features a paper clamp that automatically secures paper in place and automatic centering. The VS55 has the added benefit of a more powerful 200W motor and the option to purchase a wide range of 3-13mm drill bit diameters.
Drills up to 50mm of Paper
Drill Bits (4mm, 5mm, 6mm)
Paper Size (376mm Max)
Multiple Hole Drilling, 6x preset spacing
Power (180 Watts)
*Prices exclude shipping.